At Matrix Fire and Security we install, monitor and maintain all types of access control systems for both domestic and commercial uses in Aylesbury, Oxford, Milton Keynes and a range of London Boroughs, including Dagenham, Barnet, Enfield and Camden. We supply access control systems, from stand-alone coded keypads and fob reader units to fully integrated multi-network systems, controlling numerous doors with swipe cards and biometric readers, we will be able to provide an access control system tailored to suit your requirements, whether for your home or business.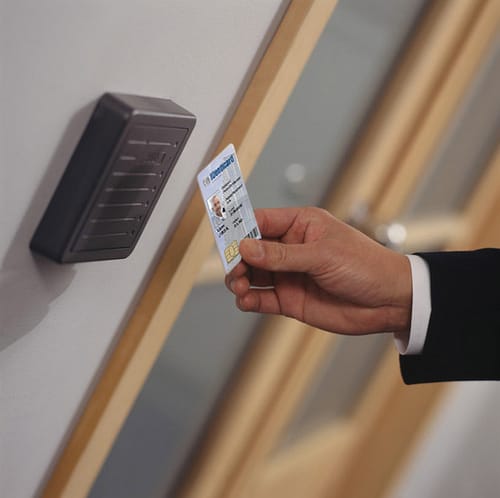 Serving homes and businesses in Buckinghamshire, Oxfordshire & London Boroughs
Domestic Access Control
Access control systems are becoming increasingly popular for modern domestic properties. They are incredibly versatile and can be tailored for the individual needs of many types of domestic property. Access control reduces everyday risks, as well as deterring potential crime and gives peace of mind to the residence. Whether you want to restrict access to unwanted visitors to your home, or you're a landlord that wants to enhance the security of your tenants, access control systems can ensure against common problems arising from the use of traditional keys. Losing keys is a frequent issue, access control systems can be quickly and easily installed, which reduces the risk of break-ins as well as the cost of replacing lost keys. Unlike traditional keys which can be cut to make duplicates, access control key cards can't be duplicated, reducing the likelihood of unauthorised entry.
Commercial Access Control
Access control systems are common in commercial buildings and businesses because they allow safety for staff from strangers. Access control restricts entry to certain areas of a business, including rooms that hold money or sensitive data, or just stop anyone who isn't an employee entering the building. Access cards can also be programmed to certain times or days, ensuring nobody has access to the building after work hours or on weekends. The most common commercial access control systems include swipe cards, which helps control entry to staff with different levels of security. This means low-level employees can't access higher security areas. Access control key cards can also be permanently deactivated, so old employees lose access when they leave.
Get in Touch with Matrix
Matrix Fire & Security can also offer the latest developments in biometric technology for high-security applications. We can also offer installations that integrate with existing systems to provide added functionality, as well as make repairs or fix faults in older access control systems. Our aim is to provide you with a complete solution to all of your access control and security needs, regardless of property type or size. We have a team of experienced and dedicated engineers able to offer advice and suggestions to create an access control system to suit your budget and requirements. Contact us for more information by calling our team on 01296 614 440, or through submitting an online enquiry form. We'd be happy to assist you with access control for your residential or commercial property in Buckinghamshire, Oxfordfordshire, or a number of London Boroughs, including Dagenham, Enfield, Camden and Barnet.